Efficient Elements for presentations. The Add-in for Microsoft PowerPoint.
Create professional presentations in your company's corporate design.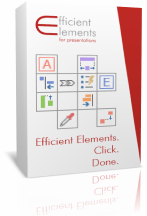 Automatic Agenda Slides
Slide Element Library
One-Click Formatting
Support for Multiple Corporate Designs
Fully Multi-Lingual: English, German, French, …
Save Time in Microsoft Office
Finally time to take care of your real job instead of wasting time with office applications.
Easily Follow the Corporate Design
It has never been easier to comply with your company's corporate design guidelines.
Improve Slide Quality
Get professional results of your work satisfying the highest quality standards.