Recover Much More than Our Competitors
Recovery rate is the most important criterion of an Access recovery product. Based on our comprehensive tests, 
Advanced Access Repair has the best recovery rate
, much more better than any other competitors in the market!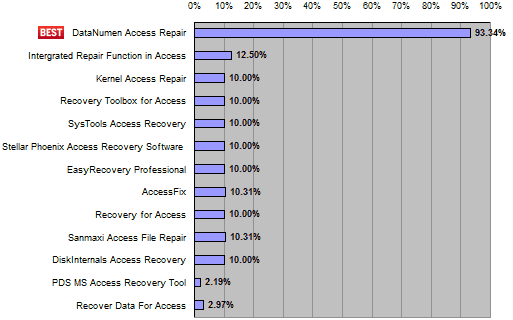 Solution for Following Common Errors Due to 

Access Database Corruption
Unrecognized database format 'filename.mdb'.
The database 'filename.mdb' needs to be repaired or isn't a database file.
The Microsoft Jet database engine could not find the object 'xxxx'.
Record(s) cannot be read; no read permission on 'xxxx'.
More…
Main Features in Advanced Access Repair
Support to repair Microsoft Access 95, 97, 2000, XP, 2003 and 2007 databases.
Support to recover the structure and records of the tables in Access databases.
Support to recover MEMO and OLE fields.
Support to recover deleted tables and records in Access databases.
Support to recover auto-number fields and indexes.
Support to recover relations.
Support to recover password encrypted Access databases.
Can be used as a computer forensic tool and electronic discovery(or e-discovery, eDiscovery) tool.
Support to fix Access mdb files on corrupted medias, such as floppy disks, Zip disks, CDROMs, etc.
Support to find and select the Access mdb files to be repaired on the local computer, according to some criteria.
Support to repair a batch of Access mdb files.
Support integration with Windows Explorer, so you can repair mdb file with the context menu of Windows Explorer easily.
Support drag & drop operation.
Support command line parameters.