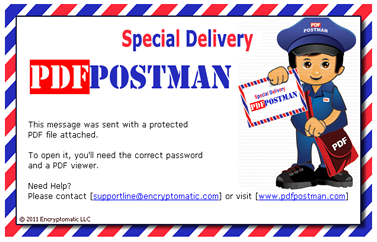 PDF Postman customizable message for recipient
The Easy to use Email Encryption and PDF Add-in for Microsoft Outlook
PDF Postman is an affordable, effective and business-practical solution to the dilemma of how to send a secure (encrypted) email message. If you need a simple, widely compatible way to send secure emails from Outlook in a way that won't burden the recipient, and that can assist you with HIPAA compliance, then you should try PDF Postman.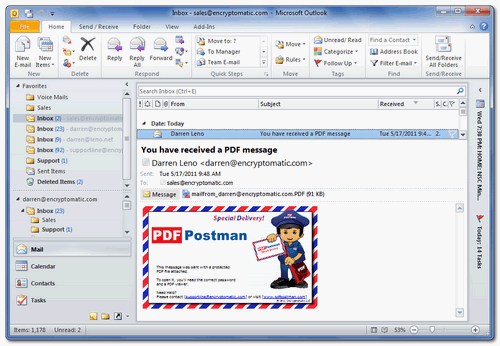 PDF Postman Email as the recipient sees it in her Inbox.
Sending secure email messages in PDF format is simple for the recipient
PDF Postman is compatible with the encryption in major PDF viewer like as Adobe Reader
AES encryption is a standard approved by NIST for protecting US Government documents
Protects email and file attachments with strong AES-256 or AES-128 bit encryption
Recipients can extract file attachments and edit them after entering the password
Send encrypted messages to recipients on Windows, Mac, Linux, and mobile platforms, wherever PDF is supported
A simple way to deliver secure messages across device platforms
No complex certificates or private key exchanges, no special software for the recipient to download, no recurring subscription or re-authorization fees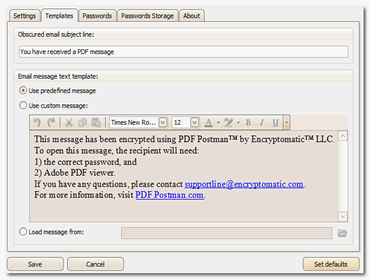 Customize the PDF Postman cover message from the Template page in settings.