Open your data from Exchange (.OST file) in Microsoft Outlook.
If you are looking for a freeware that will convert OST to PST file format quickly and easily, OST2 is what you need. After a couple of clicks, you will be able to open the converted PST file in Outlook.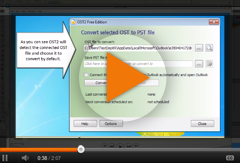 Our OST converter is useful if, for some reason, Microsoft Exchange Server data needs to be moved and opened in Microsoft Outlook. This free converter is able to do it simply and easily. Convert files in a couple of clicks – select an OST file and choose the location where you want to save the PST file. OST2 will automatically connect the converted files to Outlook*, so you won't need to import .pst files manually.
Convert orphaned OST files to PST format
 using OST2 Enterprise Edition. It means that you can convert OST files that are not connected to Outlook.  OST to PST conversion can be a solution of problems caused by Exchange Server. In case of your Exchange Server downtime, accidental user account deletion, the server crashes and your data is not accessible, you may want to convert OST to PST file format. All your emails, calendars, contacts, tasks etc. can be opened in Outlook after the OST2PST conversion. To prevent Offline Storage .ost file's data loss, it is useful to back up data in the Personal Storage file format. Back up Exchange data using this simple OST to PST converter.
Main features of OST2:
Free OST to PST converter. OST2PST software tool. Convert OST to PST (Exchange Offline Storage files to Personal Storage) files. Use OST2 as ost to pst converter to transfer data from Exchange to Outlook, make your Exchange account emails, calendar, contacts and other items accessible through Outlook. OST file must be connected to Outlook, in order to convert it. If you want to convert files that are not connected, please check OST2 Enterprise Edition.
Back up Exchange data with automatic OST converter. Use this OST converter tool to back up data as a .PST file in case something happens to Exchange Server. For fully customizable Microsoft Outlook and Exchange backup, see our Safe PST Backup Enterprise Edition software.
Recover Exchange mailbox data with OST PST Converter. In case Exchange Server crashes, you will be able to recover Exchange mailbox folders by opening the converted PST file in Outlook. Our OST PST converter allows keeping your precious data accessible to you.
Restore and convert OST files. By converting OST files to PST format, the Exchange mailbox can be restored even after accidental Exchange user mailbox deletion. Convert OST file and open Exchange mailbox emails, contacts, calendars and other folders in Outlook easily.
Convert OST to PST and connect files to Outlook after OST conversion*. After OST file is converted to the PST file format, it can be automatically connected to your Outlook. So you won't need to import the PST file to Outlook manually. OST2 is able to import a single file or a batch of files at once.
Easy-to-use OST file conversion tool with very simple interface. Select the OST file you want to convert and choose a location where you want the converted PST file to be stored. The conversion can be done in a couple of clicks.
Scan for OST files connected to Outlook*. OST2 can automatically detect OST files on your computer, so there is no need to browse for a file manually. A scan of OST can be done by clicking the icon on the program's interface.
Comprehensive settings for your OST conversion needs*. OST2 Pro/Enterprise Edition allows you to choose advanced conversion settings. With Pro Edition, you can convert multiple OST files; schedule a conversion to run at the specific time interval; make conversion hidden from an end user ("silent mode"). 
Convert OST on your corporate network*. OST2 supports network location, so you can choose any OST file from your network and select any network location, where the converted files will be stored.
Advanced OST to PST conversion configuration settings*. Create and edit one configuration file to set up OST to PST conversion on several network computers. Customize conversion the way you want using scripts and command line parameters.
Convert OST files of any Exchange version to PST files of any Outlook version. It does not matter which version of Microsoft Exchange and Microsoft Outlook you or your company are using. OST2 converts ost files created with any version of Exchange and Outlook from 2002.