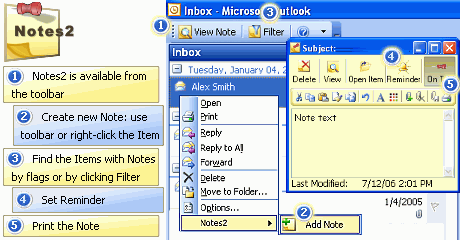 Preparing answers to your emails
 or attaching your thoughts to contacts, tasks and meetings by simply clipping the Notes2 "sticky" notes to them is like using Post-It™ notes, but without paper.
Compose a response
 to an e-mail message by auto-inserting notes, when replying or forwarding, 
without copying the text
 from your Word documents and pasting it into the response. 
Display existing Notes2
 clips 
immediately 
when you select an Outlook item with notes.
Customize its
 look and behavior with many options helping to organize your work and 
save your time
.  If you are a manager, secretary, sales person or just looking to improve your collaboration this Notes2 Outlook tool is for you.