Follow Industry Best Practices with ONE integrated system

Trouble keeping your project schedule and project scope together?
Challenged to communicate with stakeholders and team members regarding project scope?
No time to do it right?
WBS 
Director
 embeds the creation and management of the WBS directly into Microsoft Project to help the project manager define and control the project scope and the associated schedule using an integrated, user-friendly navigation process.WBS 
Director
 uses a graphical interface to build a work breakdown structure (WBS) that is noun-based and focused on work packages and deliverables. Once the WBS is completed, the activities that make up the schedule are driven from the WBS. Microsoft Project and WBS 
Director
 work together to assist the project manager with scope management, requirements change control, and overall project control.

WBS Director Report Module
Simplify your Microsoft Project Data-Mining. Define custom reporting periods (Financial, Corporate, Monthly etc). Output detailed project information by custom periods and WBS elements. The Excel output is perfectly formatted for fast pivot table creation and detailed Resource, Assignment, Work,and Cost Analysis! Excel 2007, 2010 supported.
The ABCs of Best Practice Scheduling using WBSDirector and Microsoft Project
Approval of the Project's Scope/Charter
Use the WBS Dictionary to document the project's scope. Determine what is in and what is out. Establish the framework for the project. WBS
Director
 will capture the high level deliverables and goals of your project with its graphical interface and easy-to-use WBS Dictionary. Start with one of our industry templates or build your own.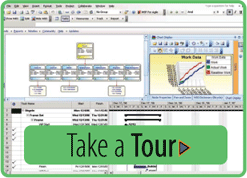 Breakdown of the project scope into manageable packages
Decompose the scope of the project into manageable work packages that can be controlled by one entity within the organization. Use the graphical interface to further breakdown the work to be completed within the project. Document the work to be performed in each work package using the WBS Dictionary. WBS Director will capture all of the top-down planning elements that you need to establish for your project, including duration, effort, and cost for each work package. WBS Director will help you to roll the planning numbers up to the higher levels of the structure.
Creation of a schedule to support the WBS Work Packages
WBS Director has already created your schedule framework for you. All that you need to do is complete the schedule through the bottom-up development of the activities. Link the activities together in their logical relationships and assign the appropriate resources, effort, and cost numbers. Let WBS Director and the scheduling capabilities of Microsoft Project work together to provide you with a manageable schedule that is closely integrated to the project's scope.