An add-in product for Microsoft Excel
Add over 200 time saving features into Excel
Adds back the classic Excel menu to Excel 2007 and 2010
Most popular features are on a new toolbar
All features are available from menus
Create your own toolbars to quickly access features you use most often
Easy to learn with the help and exercise file
The 
Spreadsheet Assistant
 add-in lets you quickly perform an incredible number of time saving tasks.  For example there are File Assistants for quick access to your favorite workbooks and directories, Select and Copy Assistants that select and copy cells without scrolling the screen, and an Any Math Action Assistant that performs any arithmetic changes on an entire range. The new features are nicely integrated into the Excel menus on the new Assistants menu and can be easily assigned to buttons.
5 STAR RATING BY ZDNET – THEIR HIGHEST RATING! "BEST OF THE NET" BY P.C. COMPUTING! EDITOR'S PICK BY PC WORLD!
James Powell the editor of WinMag says "the Spreadsheet Assistant is a Must … Bottom Line: A worthwhile time-saving addition to Excel."
The Spreadsheet Assistant comes with an exercise workbook with step by step instructions
 that helps you quickly learn many of the new features it adds to Excel. There are exercises on the new file features, the new edit features, and the new select features to name just a few. The exercise workbook contains many exercises designed to give you hands on training with the new time saving features. The following videos show two features of the 
Spreadsheet Assistant
. The first is a demo using the Fill Feature and the second is a demo using the Select Feature. These are just two of the many features included with the 
Spreadsheet Assistant
.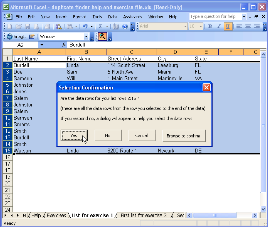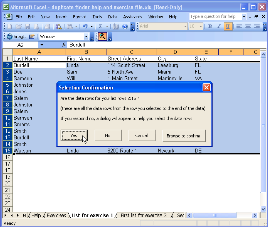 Spreadsheet Assistant's toolbar 
Many of the 
Spreadsheet Assistant's
features are accessed directly from the Excel menus:
Edit Menu
View Menu
Insert Menu
Format Menu
Tools Menu
Data Menu
Windows Menu
Cell Popup
Sheet Tab Popup