QuantumPM Schedule Auditor (QSA) is an application add-in that audits your Microsoft Project schedules. Find missing links, duplicate resources, and other problems in minutes instead of hours. QSA uses a set of configurable criteria to automatically assess the quality and robustness of schedules. QSA will save you lots of time because it finds errors in your schedules that are not obvious to you. QSA offers solutions – allowing executives to establish standards, implement checks over time, view output reports, and check parameters at both the global and project levels.  QSA works with project schedules that have been developed using Microsoft Project. It works with all current versions of the desktop software.
Quickly & easily ensure the quality of your project schedules!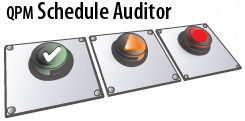 17 Quality Checks
With QSA < 1 minute
Without QSA = 1 hour or more!
    *Run any or all 17 tests and get immediate results