Export Outlook® Email to PDF, other Formats, with MessageExport 

E-mail Export Extensions for Microsoft® Outlook®. 
Copy, save, convert, backup and zip your Outlook e-mail in powerful ways.
Product Sheet (PDF)
System Requirements: Compatible with Outlook® 2003/2007/2010
Microsoft Windows 7®, Vista® and XP®, Server.
Requires Microsoft .Net Framework 2.0., Internet Explorer 6.0 or later. In 2008 an architectural design firm discovered our Outlook e-mail viewing products and asked if we could integrate it's powerful export functionality with Microsoft Outlook. We soon learned that Outlook's ability to export e-mail messages is very limited. Since then MessageExport has become the premier tool for extending Outlook's capabilities to format, copy, name, and convert e-mail messages to PDF and other formats. MessageExport is now used all over the world by thousands of large corporations, state and national governments and professional offices. MessageExport works with Microsoft Outlook to accomplish time consuming e-mail export tasks quickly. Operations requiring three or four steps to export, convert, name and copy e-mail messages can now be done in a single step with MessageExport.
Uses for MessageExport:
- Backup Outlook e-mail folders to a neutral format such as PDF
- No limit to the number of email items that may be exported (trial limited to 50, no limit after activation.)
- Preserve an Outlook folder structure to keep e-mail organized during export
- Export e-mail to PDF with file attachments embedded within the PDF file
- Export many e-mails to a single PDF file (load tested to 4,500 e-mails)
- 
Export e-mail to PDF
 with Office documents and raster file attachments imaged (Requires Office 2007 sp2 or later)
- Supports PDF/A (ISO 19005-1) formatting for archives
- Creates text searchable PDF files
- Save Outlook e-mail as Jpg, Tif, Gif and other image formats with file attachments extracted
- Retrieve and convert Outlook e-mails archived in Symantec Enterprise Vault
- Copy e-mails to network project folders or Sharepoint libraries
- 
Convert Outlook e-mails to PDF
, Text, HTML, MHT, CSV and other formats, with drag and drop simplicity
- Export large batches of Outlook messages
- Save Outlook messages to MBOX format for storage or transfer to other e-mail client software
- Name exported e-mail according to your specific requirements, such as date, addresses, subject and more
- Extract Outlook e-mail attachments in bulk
- Batch print Outlook e-mails
- Run an application or process after export is complete
- Schedule an export profile to run repeatedly and process new e-mails
- Support for US/European and other paper sizes
- Option to manually select which file attachments are exported
Supported E-mail Export formats:
| | |
| --- | --- |
| Outlook to PDF and PDF/A | Yes |
| Outlook to MSG | Yes |
| Outlook to EML | Yes |
| Outlook to HTML | Yes |
| Outlook to MHT | Yes |
| Outlook to MBOX | Yes |
| Outlook to GIF, TIF, PNG | Yes |
| Outlook to TXT | Yes |
| Outlook to CSV | Yes |
How to Use MessageExport for Outlook
1. Select the Outlook messages or folder you want to export 2. Choose the desired export profile (such as "Export to PDF") from the drop down list 3. Click the green disk icon.
MessageExport goes to work exporting your Outlook e-mail
You may also drop and convert individual files directly to a selected folder using MessageExport's Export Folder Explorer.

Export Folder Explorer lets you "drag and convert" e-mail messages in a single step. Just choose your export profile, and then drag the e-mail to the folder. When you drop the e-mail, it is automatically converted according to the selected export profile.
Creating Custom Export Profiles
The Export Profiles that appear in the MessageExport tool bar may be customized and new profiles can be built according to your needs.

MessageExport allows you to mass convert Outlook e-mail messages and extract file attachments.
Retains Outlook E-mail Folder Structure
Are you one of those very organized people who meticulously files an e-mail into its proper folder? MessageExport lets you preserve the Outlook folder structure while exporting e-mail messages.
Supports Exporting to SharePoint Server
MessageExport for Outlook makes it easy to export and format e-mail messages directly to SharePoint server locations. Just configure a new export profile, and enter your Sharepoint document library address, login and password.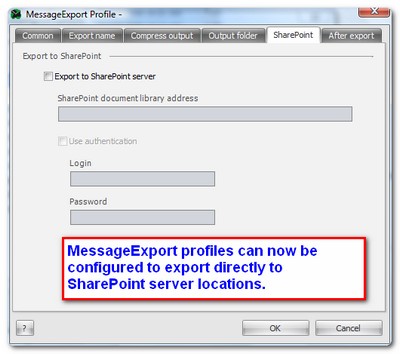 Naming Exported E-mail Files
Assigning a unique file name to exported messages is easy with MessageExport. A Naming Scheme wizard lets you quickly construct a unique file naming using any combination of these fields: To, From, Subject, Send Time, Send Date, Receive Time, Receive Date, Importance, Export Time, Export Date. You can join any of these criteria using "+ _ -".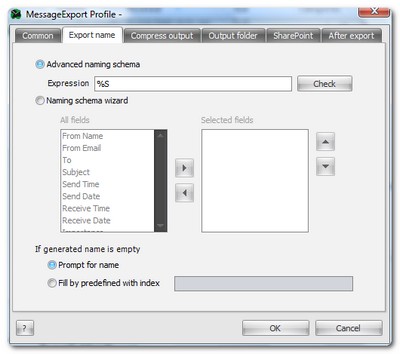 MessageExport is available as an .MSI file that can be deployed across your enterprise.