Flowcharts Made Simple
Wouldn't it be great if there were a way you could create flow charts that was as effortless as typing? A flow chart tool that picks the flowchart symbol for you based on the words you type? A flow chart tool that adds connectors between the flowchart symbols for you? A flow chart tool that integrates seamlessly into Microsoft Office, so anyone can edit and maintain flowcharts? Well there is. It's called FlowBreeze. It won't cost you a bundle of cash and only takes minutes to learn.
Value Stream Mapping
In addition to flowcharts, FlowBreeze makes it easy to create Value Stream Maps in Excel with two time-saving tools. First, FlowBreeze features a value stream mapping template designer. The template designer generates reusable Excel templates that provide a basic starting point for your diagrams. Second, FlowBreeze offers a VSM symbol panel that lets you add symbols at the click of a button.
Value Stream Mapping Tools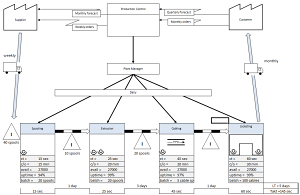 FlowBreeze makes it easy to create Value Stream Maps to model the material and information flow through a process. Excel is a perfect environment for creating value stream maps because it allows you to summarize and analyze the process metrics in the same environment that you create the diagram. Plus, Excel is an environment that many people are already familiar with.   FlowBreeze offers two tools that make creating value stream maps a snap:
A Value Stream Mapping Template Generator, that lets you kickstart VSM diagrams preloaded with common symbols.
VSM Symbols Task Pane - a side panel with click-to-add symbols.
Value Stream Mapping Template Generator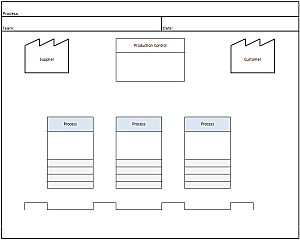 Much like the FlowBreeze template designer for flowcharts, the value stream mapping template generator lets you create re-usable Excel templates to speed up the process of making diagrams. It allows you to create a standard title block (including logo, if needed), and a basic outline of the value stream. It includes preset Customer, Supplier, and Production Control symbols. Additionally, you can specify how many Process symbols you want, and include a Data Table and Timeline below each Process. And, of course, since they are Excel template files, you can modify the template with additional symbols as needed, so you don't end up reinventing the wheel everytime you need to create a value stream map.
VSM Symbols Task Pane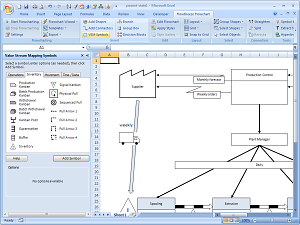 The Value Stream Mapping symbols are accessed via the VSM Symbols Task Pane – a panel the opens on the left side of Excel worksheet. You simply select the symbol and click a button and the symbol will be added the worksheet in the cell you have selected. Plus, the task pane has optional data entry fields for many symbol types (e.g. title and text fields for Process symbols) for added convenience. The image to the right shows a snap shot of how the VSM Symbols Task Pane is used in Excel.
FlowBreeze Feature Highlights
| | | |
| --- | --- | --- |
| Text-to-Flowchart | Flowchart Wizard | Flowchart Templates |
| The key to interactive flowcharting with FlowBreeze is the ability to convert text into flowchart shapes as you type. It also selects the symbol type, applies formatting, routes connectors, and many other time saving features. | The Flowchart Wizard takes a lot of the pain out of making flowcharts. You enter the process steps into a worksheet cells, and the wizard does most of the neavy lifting. Watch the demo to see it in action. | FlowBreeze features an easy to use template designer that allows you create re-usable templates. You can create vertical swim lane, horizontal swim lane, SIPOC diagram, or simple title block templates. |