Use Camtasia to…
Record your screen to capture PowerPoint slides, software demos, webpages, and more
Edit your screen recordings and camera video by cutting, splicing, and combining clips with the powerful, yet easy to use, video editor
Import camera video, music, photos, and more to truly enhance your screen recordings
Customize your screen recordings and videos with ready-to-use media themes, animated backgrounds, graphics, callouts, and more
Create interactive videos with clickable links, table of contents, search, and more
Easily share videos that your viewers can watch anywhere, on nearly any device
How Customers Use Camtasia
Every day, thousands of people around the world use Camtasia to create professional videos that train, teach, sell, and more! It's the easiest way to demonstrate a process, product, or idea.
Teaching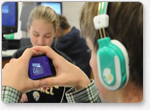 Your Teaching, Multiplied
Camtasia provides educators with the perfect solution to easily create videos that motivate students, inform parents and enhance learning. Camtasia screen recording software is smart, quick to learn, and feature rich! Simply record your live presentations or lectures and give your students a rewind button for every lesson. This helps them learn at their own pace or catch up from an absence.  
Flip your classroom: create video lessons for students to watch as homework and focus on applying lessons during classroom time
Record your lessons so absent students don't miss a beat
Add quizzes to your videos to assess student understanding (PC only)
Create videos that students can watch anywhere, even on their own mobile devices
Training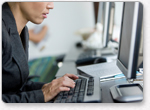 The Smarter Way to Train
With Camtasia screen recording and video editing software, you can create interactive training and support videos that viewers can watch on nearly any device. Screencasts are quick, easy, and inexpensive to create and reproduce.  
Don't tell, show! Showcase your software or service in action with a video
Create orientation videos and training for new staff members
Use quizzes in videos to make sure viewers understand the content (PC only)
Show customers how to use your product with customized training videos
Establish an online help desk with support videos and tutorials
Business, Sales & Marketing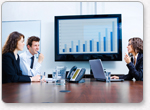 Win Over Customers With Video
Camtasia software allows you to create professional videos that clients respond to, and that they can continue to use long after your video has been shared. With Camtasia, it's easy to create high quality videos – without formal training.  
Create a video pitch: demonstrate software and other products and services to new and potential customers
Produce educational content for inbound marketing
Record and share sales presentations
Make customized video reports and presentations for clients
Add internal training videos into your hiring process